Ratnik 6SH112 Tactical Gunner Vest EMR
Price: €

139.00

Quantity:
version:

etrenching shovel (soviet sapper spade):

Description
We have machine gunner version now only. (SEE PICTURE 2 for machine-gunner set)
It has 3 big pouches for PK ammo (9 ak mags fits in each). instead of the small ak mag pouches in scout-shooter version.
Everything else is the same scout-gunner set.
Complete brand new, russian special forces 6SH112 UMTBS tactical chest rig system in digital flora camo pattern.
Vest with many pouches and backpack in scout-shooter set includes:
Vest base (6SH112)
2 pouches for:
2 AK74(AKM) mags + signal rocket pouch;
2 pouches for:
2 AK74(AKM) mags;
4 hand grenades (RGO, RGN, RGD-5, F-1) pouches;
2 universal pouches (120x35x95 mm);
1 pouch for entrenching shovel;
1 battle rucksack (7 L);
1 patrol rucksack (24 L);
There is also white rain cover for backpack.
Total weight of all system - 3.3 KG.
Waist belt can be adjusted145/2.54 to fit up to 145cm (57 inches)
Great kit for airsoft, hiking, camping, hunting, fishing or any other outdoor activities.
Durable military quality.
WORLDWIDE SHIPPING WITH TRACKING NUMBER!
Reviews
Unfortunately there are no reviews yet, you can be the first.
Related products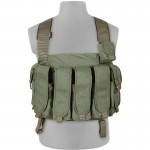 Loadout Vest Pioneer M23 Splav

€ 109.95
Out of Stock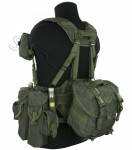 SSO Smersh RPK Tactical Vest

€ 94.99
Out of Stock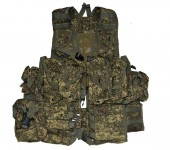 6SH117 Ratnik Vest Used

€ 119.00
Out of Stock