SSO AK-74 2 Mags Molle Pouch
Description
Pouch for two mags 5.45 AK - 74.
The mags are separated by a removable partition, sit tight and conveniently reach with gloves on.
Additionally, mags are fixed with a removable drawbar with a latch.
Turning the valve inward and tightening the plastic frame in the front wall as tight as possible, the magazines can be worn open for quick removal. The bag is closed with a valve protecting the b / c from falling out, with protection from dust, dirt, moisture. The valve is fastened with a button and insured with Velcro. For silent access to shops, the Velcro closes with a special plug.
The turnstile button is brass with a high lower part, convenient for fastening with gloves and can only be unfastened upwards. To open the valve in gloves, a "flag" 60 cm long is sewn to it. In places exposed to the greatest load (lower part, valve) reinforcement with a second layer of fabric.
A grommet is installed at the bottom to remove moisture.
Fastening the bag to the PALS platforms (MOLLE) allows you to carry the bag on ordinary waist belts with a width of 50 - 60 mm. To do this, vertical hard belts are not fastened with a button to the back wall, but are made 50 mm longer than the pouch and tucked under horizontal belt belts.
Bag dimensions:
Total height - 200 mm;
Front wall height - 145 mm;
The height of the partition is 160 mm;
Length (along the front wall) - 80 mm;
Width - 60 mm.
The weight of an empty bag made of material with a density of 500D is 170 grams.
Reviews
Unfortunately there are no reviews yet, you can be the first.
Related products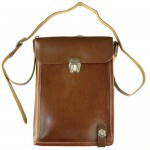 Russian Soviet Officer Leather Shoulder Map Documents Bag
€ 24.99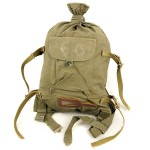 Soviet Army WWII Backpack Rucksack
€ 14.99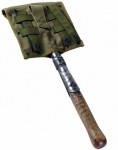 SSO MOLLE Showel Pouch
€ 9.99