Camping Set Russia Coat of Arms
Description
Coat of arms of Russia gift set - set for alcohol from a flask, 4 piles and funnels.
Specifications
300 ml volume
Gift Set Coat of Arms of Russia
The original set for alcohol made of stainless steel, which includes:
- a flask covered with dark brown leather with a cap with a latch; the coat of arms of Russia is encrusted on the flask;
- 4 stainless 0.33 ml piles, also covered in leather with the coat of arms of Russia;
- funnel;
- gift cardboard box.
Reviews
Unfortunately there are no reviews yet, you can be the first.
Related products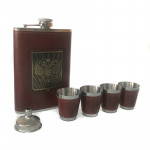 Camping Set Russia Coat of Arms

€ 24.99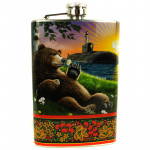 Vodka Flask This is Russia Baby

€ 15.99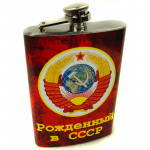 Souvenir Flask Born in the USSR

€ 15.99