SSO Jaeger MOLLE Chest Rig
Description
Chest rig Jaeger MOLLE is designed for fighters who need to carry large enough b / c, medicine, survival equipment, but as compact as possible so that ammunition do not impede movement, are easily accessible from any position, do not interfere with transportation wearing backpacks.
For this, pockets and attachment units PALS (MOLLE) are sewn onto a trapezoidal base with a height of 230/110 mm and a length of 600 mm. On the front side there are three pockets for 7.62 / 5.45 AKM / AK - 74M stores, two pockets for RSP / ROP, on the sides there are three horizontal tapes for attaching PALS (MOLLE) modules with three cells 35 mm wide each.
On the lining of the chest bag there is a patch pocket with a height of 230 mm and a length of 220 mm with an insert for cards and papers.
The insert is fastened in a pocket with a safety cord. In order to be able to place in your pocket not only flat thin objects but protective elements, it is made with two folds at the bottom, and the valve is height-adjustable using Velcro.
Pockets for shops, smoke with volumetric valves, which not only protect the contents from dirt, dust, moisture, but also prevent them from falling out. Pockets for mags and smoks have removable partitions (in pockets for mags hard with plastic, in pockets for smoke made of Velcro), and weights with elastic cords with stoppers in the upper part, which prevent the contents from colliding with each other. Stores to AKM are transferred with inserted partitions, two in each compartment, shops to AK - 74 can be worn in three in a cell, with the partition removed, the ends to the plastic back and front walls.
The valves of all pockets on the outside of the bib fasten with brass turnstile buttons.
This button is reliable, it can only be unfastened in one direction (up), due to the high leg it is convenient to fasten it with gloves.
The chest bag is carried on two shoulder straps from a belt tape 40 mm wide with removable rectangular soft pillows 330 mm long, 65 mm wide, 10 mm thick. For the convenience of carrying a chest bag with a backpack or with body armor, the pillows can be removed. The straps are mounted on the chest bag in two positions: H - shaped and X - shaped.
To wear the straps in the N - shaped position, they are equipped with a special removable jumper - a tie with an adjusting buckle. The straps of the chest bag are adjusted for fighters of size / height from 44/3 to 62/7 with the help of two metal adjusting buckles - "six-walled", excess belts are fixed with additional buckles and removed under elastic couplings. The chest bag can be easily removed using two metal locks - quick-release buttons fastened with buttons. Locks are covered with elastic couplings.
In places exposed to the greatest load (lower part and flap pockets) reinforcements with a second layer of fabric, triple stitches, seams of flaps with rigid inserts made of plastic. To remove moisture, all pockets are equipped with drainage holes with eyelets.
The weight of a chest bag made of fabric with a density of 500D is about 1,2 kg.
Reviews
Unfortunately there are no reviews yet, you can be the first.
Related products
6SH116 Russian Chest Rig Tactical Vest Backpack Digital Flora New Set

€ 175.00
Out of Stock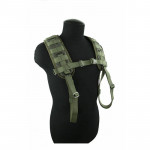 SSO SMERSH Shoulder Straps MOLLE

€ 22.95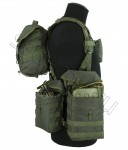 SSO Smersh PKM Chest Rig

€ 99.00
Out of Stock