Gorka 3 Suit EMR
Price: €

64.99

Quantity:
Size:

Cap (olive):

Cap (digital flora):

Black leather officer belt:

Bars Boonie Hat:

Gorka Tshirt:

Digital flora camo Tshirt:

Description
Genuine Gorka 3 olive / digital flora camo pattern. Gorka 3 is a Russian military uniform suit designed for mountain divisions (the word Gorka originates from Russian word mountain). This BDU first appeared in the Soviet army during the Afghanistan war, then widely use during Chechen wars and other conflicts. Also often used by Russian Special Forces (spetsnaz) during anti-terrorist raids.

It is mainly used by special forces (spetsnaz) of MVD, FSB, VDV (airborne), GRU. Loose fit jacket with buttons has adjustable hood with a small peak, 2 sleeve velcro pockets, 2 side pockets with special flap to avoid falling items out of the pocket. Tightening cords at waist and neck. Pants with removable braces (attached on left and right sides) have 2 cargo pockets, 2 back pockets. Pants and calves of the jacket have elastic tightening inserts for more firmly fitting to a body, allowing less wind and sand to get inside of the sleeves and reduce windage. The suit is made of thick 100% cotton fabric (olive) with digital flora (60/40 cotton/poly) inserts. High wear and weather resistance and protection. Windproof. Water resistant.

Important! Please consider that these suits designed to be worn over other clothes or body armor or other military equipment, so the fit is bulky. If you do not plan to wear it over other clothes but just in regular way, you should order 1 or 2 sizes smaller. For example if your size is 52, you should order 50, or even 48 for exact fit.
Reviews
Related products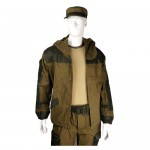 Suit Gorka Uniform Set
€ 94.99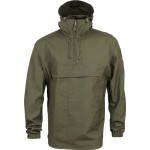 Splav Gorka 2 Anorak Jacket
€ 74.99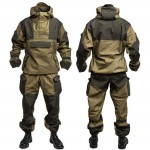 Gorka 4 Suit Bars
€ 64.99