SSO Gorka R Mountain Suit
Price: €

84.99

Quantity:
Size:

Description
Gorka R Suit SSO Gorka R. Adopted by Russian military special forces. Used in special operations in highlands and mountains. The mountainous summer windproof suit is a dirty earthy-gray color with a greenish tint, which masks well in the conditions of a mountain-wooded area in both summer and autumn-winter periods. Mountain suit is designed to protect against sudden changes in temperature and strong wind in mountainous conditions.

The costume set includes a jacket-park and trousers. Jacket of free fit, long - to mid-thighs, allows, depending on the season, to put on under the jacket additional layers of clothing. Also designed to be warn with armor. The volume of the jacket is regulated by a rubber-fabric braid on the sides at the waist and with a cord in the drawstring. For better protection from the wind, the jacket is buttoned with two windproof slats, located on the inside and outside of the left shelf.

This arrangement of the slats, completely cuts off the flow of cold air from either side. So that the buttons do not cling to the equipment, the outer strap is closed by the side of the left shelf. The hood is fastened on the chin with a flap on the buttons, equipped with a visor and is adjustable in volume with cords in the drawstring. The bottom of the sleeves is regulated by a rubber-fabric band.

The jacket is sewn from thick cotton fabric of plain weaving, used for the production of tents, and strengthened on the elbows with a second layer of blended fabric. On the shelves there are side slit pockets with buttoned dustproof flaps. That the valve quickly did not wear out, at frequent use by a pocket, on a lining there is a mixed fabric. Pants, as well as the jacket, allow you to put on additional layers of clothing. In order to free trousers from sailing in a strong wind, making it difficult to move, under the knees and below are placed ties of rubber-fabric braid. The trousers are equipped with six pockets: two cargo thigh (with valves and buttons), two rear slotted with valves, two side slotted, and also internal dust apron tucked into shoes to prevent sand and stones from getting inside the shoe.

The belt of trousers is regulated by a cord, and elastic band. The pants are reinforced with a second layer of blended fabric on the knees, on the back and below. The suit is made of tent dense x / fabric of linen weaving. Critical wear areas of the suit are reinforced.
Reviews
Unfortunately there are no reviews yet, you can be the first.
Related products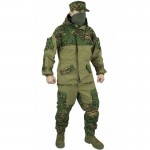 SSO Gorka E Suit Partizan

€ 84.99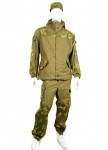 GORKA 3 Winter Suit Fleece Berezka

€ 84.99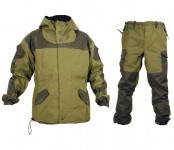 Gorka 3 Suit Bars

€ 59.99