Splav Gorka 2 Anorak Jacket
Price: €

74.99

Quantity:
Size:

Description
Jacket Gorka Anorak 2 Splav Mountain BDU Anorak-2 is made of high-quality tarpaulin, with some improvements. It is still the same dense linen, half-linen or cotton fabric impregnated with waterproof and antifouling compounds, but it has become so light and thin that at first glance it is difficult to understand that it is tarp.
The canvas breathes perfectly, protects from wind and shallow rain (in heavy rain additional protection is needed) or snow. In addition, the tarpaulin has such properties as fire resistance, resistance to decay and abrasion, has increased strength, high wear resistance. When wet, the flax strongly swells, further increasing the strength and water resistance of the canvas. Anorak-2 is a classic anorak of a free cut with a front kangaroo pocket.
A tall collar-stand in combination with a hood adjustable in height and an oval, blocks the entrance to the wind and insects. A strong lightweight windproof jacket that is not afraid of sparks from a fire and impenetrable thickets and reliably protects against insects.
Made in Russia by Splav. Recommended for any kind of outdoor activity (airsoft, milsim, hicking, fishing)
Reviews
Unfortunately there are no reviews yet, you can be the first.
Related products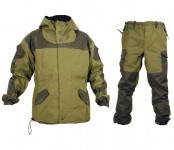 Gorka 3 Suit Bars

€ 59.99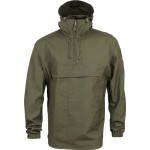 Splav Gorka 2 Anorak Jacket

€ 74.99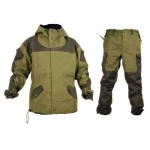 Gorka 3 Bars Winter Field Uniform Suit Fleece

€ 74.99