Vodka Flask This is Russia Baby
Description
Patriotic flask This is Russia, baby! will be the pride for any citizen of Russia. Volume 300 ml.
An exclusive image with a bear and a nuclear submarine on one side, with Russian symphony on the other side. Buy passport covers for friends, colleagues and relatives.
Reviews
Unfortunately there are no reviews yet, you can be the first.
Related products
Camping Set USSR Shots

€ 14.99
President Putin Thermos Mug

€ 24.99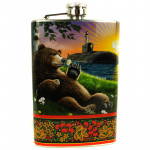 Vodka Flask This is Russia Baby

€ 15.99