PMK 3 Gas Mask Full Kit
Price: €

54.99

Quantity:
Military canteen:

Description
PMK 3 Soviet Army Gas Mask Kit. Original unused Soviet military surplus from a military warehouse. The gas mask PMK-3 is designed to protect the respiratory organs, face and eyes of the personnel from the effects of poisonous, radioactive, potent poisonous substances, bacterial agents, radioactive dust, and light radiation from a nuclear explosion.
The gas mask PMK-3 can be used in all climatic zones in the summer, autumn, winter and spring periods of the year in night and day conditions, at temperatures from minus 40 ° С to 40 ° С and relative humidity up to 98%. The gas mask PMK-3 provides the possibility of receiving water in an infected atmosphere.
Main characteristics:
- Resistance to breathing on inhalation at a constant air flow rate of 30 l / min, (Pa) mm of water. Art.
- 180 (18) -resource filter - 240 h.,
-duration of continuous stay - 24h,
-intelligibility of speech - 95%,
-Working interval of temperatures, ° С - 40 ... + 50
The gas mask kit consists of a front part, a filter-absorbing box, a gas mask carrying bag, a flask cover, and anti-fogging film.
Reviews
Unfortunately there are no reviews yet, you can be the first.
Related products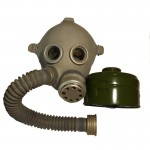 Children's Gasmask PDF-2D
€ 12.55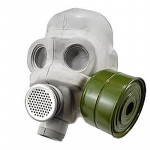 PMG Gas Mask Full Kit
€ 29.95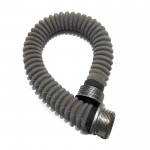 Soviet Gas Mask Hose Tube 40mm Surplus
€ 9.50