Ratnik Tactical Vest 6sh112 Used
Description
The original universal modular transport and combat system 6sh112 in the configuration of a reconnaissance shooter (without tags). It includes everything you need: a vest base, pouches for various purposes, satchels.
The vest base is made on the basis of the MOLLE system, which allows you to attach other pouches to it, in addition to those included in the kit. It consists of two chest panels, a spinal tablet, and a soft belt, interconnected. The base of the vest is made of power mesh, which improves ventilation. Soft, shock-absorbing inserts are installed in the waist. The vest has a universal size, adjustable in height and girth. The vest is fastened on the chest with 3 metal turnstile fasteners. The belt fastens on a fastex. The length of the belt is adjustable in length to 145 cm.
Equipment:
    Vest base UMTBS;
    4 pouch for 4 AK74 (AKM) magazines
    4 pouch for grenades (RGO, RGN, RGD-5, F-1);
    2 universal pouches (can be used for IPP);
    1 combat bag of 7 liters;
    1 patrol backpack with a volume of 25 liters.
Features:
    Color - Russian Digital Flora
    Vest material - nylon, synthetics;
    MOLLE system;
    Universal size;
    High-quality, durable, wear-resistant stitching. In places of increased wear - double stitching;
    Quality fittings.
Reviews
Unfortunately there are no reviews yet, you can be the first.
Related products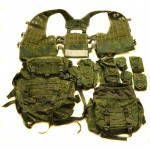 Ratnik Tactical Vest 6sh112 Used
€ 99.95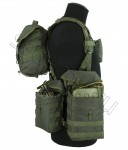 SSO Smersh PKM Chest Rig
€ 99.00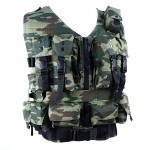 AK Assault Vest Flora
€ 54.95