SSO RD-54 Molle Assault Backpack
Description
The backpack is intended for property (ammunition, food rations, personal protective equipment) of the airborne troops during parachute jumps. The backpack consists of three compartments - the main one (in the main compartment there are ammunition and food rations) with a retractable cord, a wire frame, a hanging system with straps, snap-on carabiners with belt clips, a soft back - pockets are sewn on the sides of the main tank, which hold personal protective equipment.
All pockets are closed with volumetric valves that protect against moisture, dust, and also prevent objects from falling out during a parachute jump. The total volume of the backpack is thirteen liters. Valves of the main tank and side pockets are fastened on paired, plastic buttons - hooks sewn to the pockets with legs from the braid.
All pockets are equipped with metal holes - eyelets for draining moisture that has got inside. The outer wall with the inner frame is sheathed with vertical straps to fasten additional pockets equipped with a MOLLE system mount. Shoulder straps with a chest strap are equipped with soft pillows ten millimeters thick and a mesh lining for ventilation of the shoulders.
The side straps for adjusting the backpack in height are fastened to the rings on the soft pillows with special steel snap hooks and fitted with three slotted buckles (the excess belt is fixed with two slotted buckles). The chest strap is fastened with a steel carabiner to the ring on the left soft pillow and is adjusted to the volume of the chest with two slotted metal buckles. Before a parachute jump, the backpack falls below the main parachute and is fixed with a chest strap. On the flaps of the side pockets and the flap and the bottom of the main tank, loops are sewn for the four removable loops included in the package of delivery of the backpack. Using these loops, you can attach a sleeping bag, a heat-insulating mat, a rope to the backpack from the outside. The backpack can be equipped with two bags for stores for AKM and hand grenades (F - 1, RGD - 5, RGO, RGN) - two stores and two hand grenades in each bag.
The bags are hung on the belt with the help of loops, and the backpack is fastened to the rings sewn to the back walls of the bags, with steel hooks - carbines, with latches sewn to the straps of the soft pillows of the shoulder straps. The backpack is sewn from polyester fabric of linen weaving, with a density of 420 g / m, protective olive-green color. The bottoms of the side pockets and the main tank are reinforced with a second layer of fabric.
Reviews
Unfortunately there are no reviews yet, you can be the first.
Related products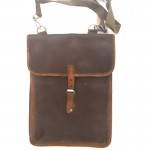 Soviet Russian Army Military Sergeant Map Documents Bag Tarpaulin
€ 24.95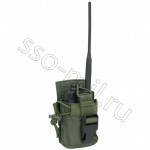 SSO PRS-2 Molle Radio Pouch
€ 9.99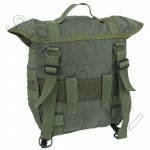 SSO Waist Bag Pouch SPP
€ 20.00