Gas Mask GP-7VM Drinking Flask
Price: €

59.99

Quantity:
Glass frame:

Description
Russian GP-7VM Gas Mask The mask is new, unused surplus. (GP-7 GP 7 PMK-2). Assigned for protection of organs of respiration, eyes and face from poisonous and radioactive substances in form of vapor or aerosols and harmful bacteriological (biological) agents, present in the air.
The Military Masks GP-7VM provide a highly efficient protection in real conditions when used properly. The mask has a built-in communication device, giving an opportunity to communicate by technical means. The use of mist-proof materials, and warming up layers in low temperatures preserves the transparency of glasses during the entire period of work in the gas mask regardless of the intensity of physical work. Also, this gas mask has a unique drinking device, enabling to drink water from the flask during work in contaminated environment.
The 0,7L Aluminium flask comes with 2 caps - ordinary and special, with valve, for use with the gas mask. Additional filter canisters can also be supplied if needed.
This complete kit includes: New GP 7 gas mask; New Filter Canister; 2 spare glasses; Antifogging membranes; Soviet army flask (0,7L) with regular cap and special cap with valve, for use with the gas mask for drinking in polluted air; Carry bag.
Reviews
Unfortunately there are no reviews yet, you can be the first.
Related products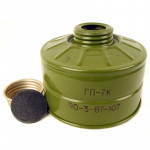 Gas Mask Filter GP-7

€ 12.99
Out of Stock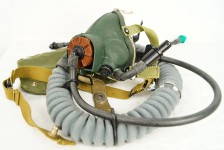 Pilot Flight Mask KM-32

€ 149.99
Out of Stock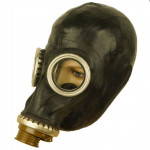 GP-5 Gas Mask Black

€ 14.99
Out of Stock