Russian Army Military Tactical Waist Belt VKBO Beige Desert Olive
Price: €

9.99

Quantity:
Belt Color:

Description
Russian Army Military Waist Belt Olive VKBO Beige Desert. New generation Russian army equipment uniform field belt. Part of VKBO set ( all-season set of soldier's uniforms and equipment).
The buckle is welded. Not stamped. Chromed.
This model of belts is used in uniform by the Russian troops in Syria. The belt is a piece of equipment that serves to carry personal weapons or other items of equipment, and also supports trousers.
Width of the belt is 50 mm. Made of nylon. Very durable. Buckle is made of steel.
The belt also includes two additional half-rings, designed to carry extra equipment, which is very convenient for and outdoor activities.
Reviews
Unfortunately there are no reviews yet, you can be the first.
Related products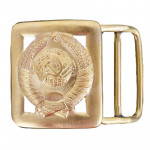 USSR Leather Belt Buckle
€ 4.99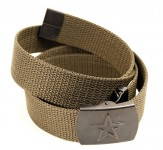 Modern Russian Army Military Uniform Belt with Star Buckle OD Olive
€ 7.99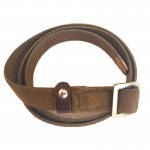 Soviet Russian Military Army Soldier Lap Belt Tarpaulin USSR CCCP
€ 9.99