Soviet Gas Mask Hose Tube 40mm Surplus
Description
Corrugated tube for gas mask is designed to connect the front part with a filtering and absorbing box. Made of rubber in a knitted braid and has transverse folds, which gives it the necessary elasticity and ensures the passage of air during bending
Standard Russian Soviet Army Military Gas Mask Hose to be placed between filter and mask - 40mm screw thread. Can be connected to most Soviet / Russian gas masks like GP-4, GP-5, GP-6, GP-7, GP-7V, GP-7VM, PMG, PMK, SHMS, PRWU and others.
Length - 50 cm. New, unused suprlus. Cosmetic condition is not perfect, but excellent - can be storing / time marks, especially on metal parts.
Reviews
Unfortunately there are no reviews yet, you can be the first.
Related products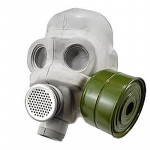 PMG Gas Mask Full Kit

€ 29.95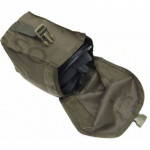 SSO MOLLE Gas Mask Pouch

€ 18.99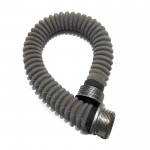 Soviet Gas Mask Hose Tube 40mm Surplus

€ 9.50
Out of Stock