SSO Gorka E Suit Partizan
Price: €

84.99

Quantity:
Size:

cap:

boonie:

Description
Original Sposn (SSO) mountain BDU suit for Russian special forces Gorka E. Jacket and pants. Designed to protect special forces operators against extreme temperatures and strong winds in a forested mountainous terrain.
The suit consists of two items: a jacket with hood that hides in collar and provides better protection from the wind and trousers. Used by Russian armed forces. Since the suit is designed to act on surface with deciduous forests, a simple earthy-gray coloring that works well in open areas and in the highlands, does not provide effective camouflage for short distances. Special reinforcement lining are made of mixed fabric with partizan pattern. The combination of pads with earthy gray color of the suit provides breaking of the silhouette of man at large distances (100-200 m). This camo one of the most popular among airsofters. When driving through a dense undergrowth masking properties of the suit provides small round spots marked on the fabric in accordance with the distribution of shadows in woods (beech, oak, walnut).
Heavy cotton fabric provides not only protection from the wind, but also in combination with Blended plates has a high resistance to wear - a suit can withstand passage through the chaparral, crawling, you can work in a limited volume (underground utilities, destroyed by urban development) . The jacket is equipped with three pockets - one internal and two slotted valves. Buttons fastened to a closed shelf bracket with additional wind protection strip - this design is completely cuts off the flow of air. The hood is designed in such a way that it can be worn under a warm hats - in this case with the help of cords with stoppers, threaded into Drawstring hood can be adjusted so that it does not interfere with peripheral vision, and tightly fits the head. Hem is regulated with cord with stopper. Excess cord is tied with ribbons, located on the pocket bag. Elastic waist cord that can be adjusted - this allows to put other warm clothes under the jacket. Straight trousers with aprons, anthers, dressed in boots, six pockets - two hip, portfolio valves, two overhead, rear, without valve is fastened to the outboard hinge, two slotted in the joints, without sacking - access to underwear. All buttons are on special leg - this fixture has high strength.
Reviews
Unfortunately there are no reviews yet, you can be the first.
Related products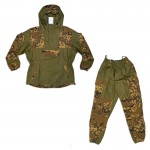 Gorka 4 Suit Anorak Autumn
€ 64.99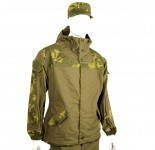 Gorka 3 Suit Berezka
€ 64.99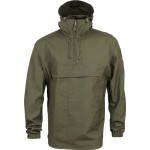 Splav Gorka 2 Anorak Jacket
€ 74.99