Russian Military Dog Tag with Chain Flag of Russia Eagle Coat of Arms
Description
Russian Military Dog Tag with Chain Flag of Russia Eagle Coat of Arms
Made of stainless steel. 28 x 50 mm. 1,5 mm thick. Weight - 16 grams.
Two chains are included: 60 mm and 10 mm long.

Reviews
Unfortunately there are no reviews yet, you can be the first.
Related products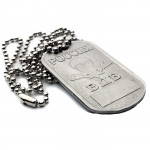 Russian Airborne Troops (VDV) Dog Tag with Chain
€ 4.50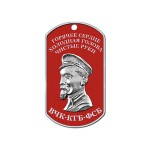 VCHK - KGB - FSB Dzerjinsky Soviet Russian Secret Service Dog Tag
€ 4.50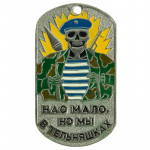 We Are Few But We Are In Telnyashkas Dog Tag
€ 4.50