Tachanka Helmet Maska-SCh1 Replica
Price: €

170.00

Quantity:
Description
Airsoft replica of the helmet Maska-SCH1, a modification of which is better known as Tachanka / Tachanka from the game Rainbow Six Siege. The helmet dome is made of fiberglass ~ 3-4 mm thick. The visor is made of solid sheet steel ~ 2 mm thick. There is a gap for viewing in the eye area on the visor (we recommend wearing a helmet with protective glasses).
The under-neck space consists of a leather collar, a soft polyurethane cap and straps that fix the helmet on the head.
The helmet reliably protects the head from flying balls, fragments, as well as light impacts on solid objects during the game. Helmet weight ~ 2300 grams.
Features:
  Color - olive (olive);
  Production material - fiberglass, steel;
  It is fixed on the chin with the help of a fastex fastener belt. The belt covers the chin from above and below for better fixing the helmet on the head;
  Protects the entire head, face (the actual coverage area depends on the size of the head);
  One size fits all. Suitable for most head sizes;
  This is a REPLICA! DOES NOT HAVE REAL BALLISTIC PROTECTION!
Reviews
Related products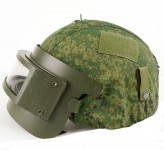 Altyn Helmet Cover EMR

€ 13.49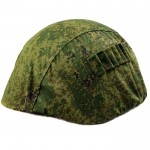 Universal Helmet Cover EMR

€ 9.99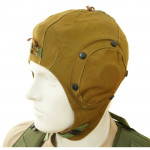 Aviation Helmet

€ 34.99