Leather Boots Side Zipper Fast Put On
Price: €

64.99

Quantity:
Size:

Description
Lightweight boots made of genuine leather chrome-tanned, unlined, suitable for spring-summer season. Side zipper for super fast convenient putting on and taking off.
The main advantage of this model is simplicity, reliability, lightness and reasonable price. It is in demand in all regions of Russia, from the Caucasus to the Ural.
Material of top: soft edging, natural thickened leather Crust (1.6-1.8mm)
Lining material: Unlined
Sole material: rubber of increased wear resistance, oil and petrol resistant (± 50 C)
Color: Black
Clasp: String + Zipper
Toe and heel: reinforced from thermoplastic material
The method of fastening the sole Glue stitching
Height 24 cm
Weight 600 gr.
Sizes available. Good quality. Made in Dagestan, Russia.
Reviews
Unfortunately there are no reviews yet, you can be the first.
Related products
Perforated Leather Summer Boots

€ 64.99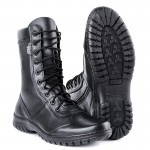 Leather Boots Side Zipper Fast Put On

€ 64.99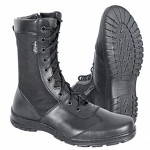 Summer Tactical Boots Cordura

€ 64.99