MVD Spetsnaz ODON Patch Set Panther +Gift
Price: €

14.99

Quantity:
MVD sleeve patch:

Description
Original Russian MVD military special forces complete uniform patch set.
High quality pvc (rubber) patches. All standard Russian miltary sizes.
Includes:
jacket back spetsnaz sign 27x7 cm (10.5x2,75 inches);
chest spetsnaz sign 12x3 cm (4.7x1.2 inches);
VV MVD RF (Internal Troops of Ministry of Internal Affairs of Russian Federation) with flag 12x3 cm (4.7x1.2 inches);
Panther - Spetsnaz forces logo patch (11x8 cm) with arc spetsnaz sign patch (11x3 cm);
MVD Russia with flag and two-headed eagle sleeve patch (9x7 cm);
Flag hat (beret) patch (8cm long);
and we also include nice rubber keychain (not official military item) with spetsnaz logo as a gift.
MVD sleeve patch can be with or without eagle.
The Ministerstvo Vnutrennikh Del (MVD) (МВД or Министерство внутренних дел) was the Ministry of Internal Affairs in Imperial Russia, later USSR, and still bears the same name in Russia. The Ministry is headquartered in Moscow. Insignias on uniforms of military Russian MVD (MIA) troops are worn on the right sleeve and show allocation to a particular district of the MIA of Russia:
Falcon - Moscow District,
Sphinx - North-West District,
Deer - Volga District,
Horse - North Caucasian District,
Panther - separate division of fast response (ODON)
Salamander - Ural region,
Bear - Siberian District,
Siberian Tiger - Eastern District,
Lion - Office for securuty of important state objects and special cargo,
Griffin - military units and agencies to support the activities of Russian Interior Ministry troops.
Reviews
Unfortunately there are no reviews yet, you can be the first.
Related products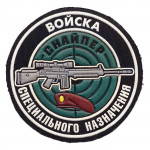 Sniper Patch Maroon beret

€ 4.99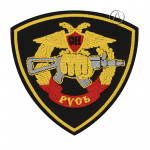 Rus' Russian Special Division MVD Patch

€ 5.50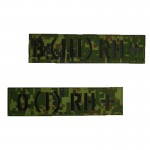 Russian Military Blood Group Type Rhesus Factor Patch Velcro Digital Flora

€ 3.95