Leather Ushanka Fur Hat
Price: €

49.99

Quantity:
Size:

Badge:

Description
Gorgeous Russian officers ushanka. Official Navy officers uniform men's fur hat. Made of natural top grade grey-blue mouton sheepskin with natural grey leather top. High quality. Thick and heavy. Made in Russia.
When you hold it you feel that you are holding a quality product in your hands. Badge is metal. It will not be attached but included. You can choose between eagle badge (Russian crest) and red star Soviet army badge. Earflaps can be tied on top (classic variant) or released and tied under the chin to cover chicks and ears for severe weather. Great winter Russian present for your friend or for yourself.
Reviews
Unfortunately there are no reviews yet, you can be the first.
Related products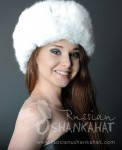 Russian White Rabbit Ushanka Fur Hat

€ 34.99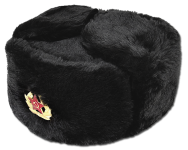 Russian Traditional Soviet Winter Ushanka Fur Hat

€ 14.99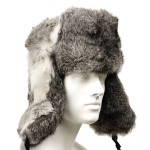 Russian Grey Rabbit Ushanka Fur Hat

€ 34.99