Soviet Sheepskin Fur Long Coat
Price: €

199.00

Quantity:
Sheepskin Ushanka Hat:

Officer leather shoulder bag:

Jackboots:

Officer leather belt:

Sheepskin mittens:

Description
Russian Military Sheepskin Fur Long Coat Overcoat Pointsman Jacket Soviet.
Genuine Soviet military surplus greatcoat.

Army short fur coats have a number of unique characteristics:
- Coat was developed specifically for guards who had to serve in the harshest conditions of the north, at a temperature of -30 degrees. The sheepskin coat perfectly warms its owner, even if the temperature drops even lower.
- For sewing overcoat exclusively whole-quality pieces of high-quality leather are used, covered with long natural pile (sheep's fur).
- Due to its completely natural composition, such a sheepskin coat is hypoallergenic.
- The bottom of the backes has the shape of a wide elongated skirt that does not hinder movements when walking, and a high stand-up collar reliably protects from piercing wind and prickly snow.
- The army sheepskin coat does not require special care, it is enough to wipe it periodically with an ordinary wrap brush.
- It is never cold or too hot in a bekkesh, as it creates an optimal microclimate for a person.

This Russian coat is unused excellent condition. Was made in Kirov in 1985. Genuine sheepskin leather and fur. Very warm and heavy jacket.
Size 50-52 (US 40-42 chest)
Reviews
Unfortunately there are no reviews yet, you can be the first.
Related products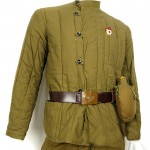 Vatnik Soviet Army Winter Uniform WW2
€ 64.99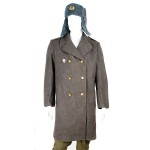 Red Army Soldier Uniform Trench Coat
€ 34.99
New Russian Military Uniform Great-Coat Officers Winter
€ 99.00