Lightweight Suit KLMK Berezka
Price: €

49.95

Quantity:
Size:

Cap:

Description
The Berezka jumpsuit itself is comfortable, soft, lightweight, not restricting movements.
KLMK "Birch" type camouflage suit, two-sided (day and night camouflage).
This camouflage suit is a 100% original (from storage) camouflage of the Armed Forces of the USSR, this type of camouflage was used in the Airborne Forces, border guard, reconnaissance and sniping. The camouflage suit is equipped with special pockets for additional camouflage with vegetation.

The suit Berezka was very fond of in the Russian army and was widely used during military operations in the Caucasus, where, due to the increased temperature, camouflage robes were worn instead of uniforms, since the 100% cotton material allowed the body to breathe and improved heat transfer.

Advantages of the Birch camouflage jumpsuit:
- free cut (does not constrain movements);
- low weight (product weight is 0.8 kg.);
- natural cotton fabric (the costume is completely sewn from 100% cotton);
- Entourage (an original army jumpsuit with a great history of tailoring
in the 1980's in the USSR);
- the possibility of fastening bush branches in special pockets
throughout the camouflage.
- the presence of the original mask in the color of a camouflage suit.
- two-sided jumpsuit (bright color for masking during the day, and the
inner pale side for night masking);
- slots for pockets on the sides of the belt;
- 2 pockets on the back of the overalls (1 inner, 1 outer);
- Straps for a wide belt.

Note: This product comes across various samples in color (several tones lighter or darker (depending on the year and month of sewing), which may not coincide in color with the product shown in the photo and have slight fading in the places where the costume folds (store more than 30 years).
Reviews
Unfortunately there are no reviews yet, you can be the first.
Related products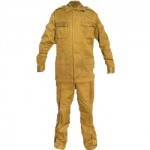 Afghanistan War Summer Uniform BDU

€ 99.00
SSO ATACS FG Reversible Suit

€ 84.95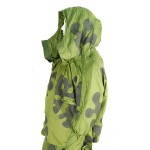 WW2 Army Amoeba Camo Uniform

€ 99.50