AK Tactical Vest Beetle
Price: €

34.99

Quantity:
Color:

Description
The vest AK Beetle is suitable for people of any stature, it is adjustable from 46 to 60 size. The system is adjustable with straps.
Due to its small size, this system does not hamper movement.
This loadout system has four pockets for AK mags (up to two mags can fit in each pocket).
Also in this system there are three internal pockets for documents or other personal items.
Additional pocket for flares (or AK mags).
On the front pockets there is a system for draining water. The pockets are also tightened with a rubber band, which will not allow things to fall out, even with the valve open.
Removable soft straps are provided on the shoulder straps that protect against chafing and can be used to descend along the rope.
Features:
- Large size range (from 46 to 60).
- In all pockets provided for draining water.
- Shoulder straps have soft straps that help protect against chafing.
- Four pockets for AK mags.
- Pocket for flares or additional AK mags.
- Three internal pocket for documents and other personal items.
- Belt loops.
- Elastic bands on the front pockets.
Reviews
Unfortunately there are no reviews yet, you can be the first.
Related products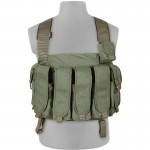 Loadout Vest Pioneer M23 Splav
€ 119.95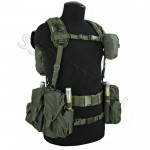 SSO (SPOSN) AK Smersh Vest
€ 94.99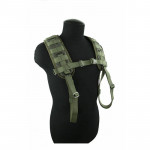 Russian SSO Tactical Shoulder Straps MOLLE Olive
€ 22.95