Russian Police Officer Badge
Description
The police officer's common badge is made of aluminum. The badge consists of a base and an overlay for an individual number.

The badge has an oval shape with a size of 75x60 mm. The surface of the sign is golden. In the central part of the sector, covered with red enamel, there is a relief emblem of the Ministry of Internal Affairs of the Russian Federation. Below it on three embossed lines is a golden inscription "Police", made on a blue enamel background. The badge is fastened using a combined hair clip with a folding fastening for buttons.
Reviews
Unfortunately there are no reviews yet, you can be the first.
Related products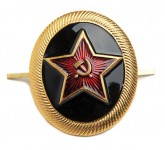 Russian Soviet Marines Uniform Hat Badge
€ 4.50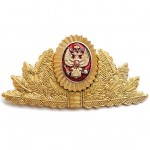 Russian Tax Police Uniform Hat Badge Eagle
€ 4.50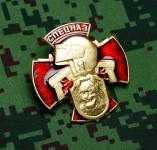 Russian Spetsnaz Uniform Award Chest Badge special forces
€ 5.39