Russian Spetsnaz Werewolf Dog Tag
Description
Russian Spetsnaz (special forces) Werewolf steel dog tag with chains set.
Sign in Russian on the tag says: "Beware, enemy, death is coming"
Made of stainless steel. 28 x 50 mm. 1,5 mm thick. Weight - 16 grams.
Two chains are included: 60 mm and 10 mm long.
Reviews
Unfortunately there are no reviews yet, you can be the first.
Related products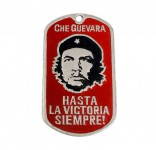 Che Guevara Hasta La Victoria Siempre! Dog Tag

€ 4.50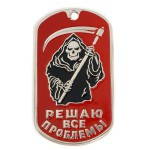 Russian Military Dog Tag - Solve All Problems - Death Skull

€ 4.50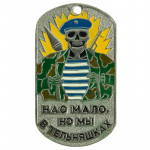 We Are Few But We Are In Telnyashkas Dog Tag

€ 4.50