Loadout Vest Pioneer M23 Splav
Price: €

119.95

Quantity:
Description
CHARACTERISTICS

Adjustable size from 46 to 68, for any height.
Compatible with climbing system.
Detachable loops for fastening the unloading / pistol belt are sewn on the bottom
4 pockets for shops, each holds 2 AKM / AK-74 stores or 1 RPK / RPK-74. Height adjustment by Velcro valve, the volume is pulled together with a wide elastic band sewn in to protect the contents from hanging out. 2 extreme pockets are sewn to the bib so that their back wall forms hidden flat pockets with an entrance from above, in which 1 CPD can be carried
4 pockets for shots VOG-25 / VOG-25P, each holds 2 shots. Individual shots are held internally in elastic cells. You can use the pocket for other items (for example, for hand grenades or small things)
2 pockets for shots VOG-25 / VOG-25P, each holds 1 shot
2 pockets for a bayonet-knife or 1 RSP. A simple pocket with an open top, a snap hook for attaching the scabbard and a velcro fastener.
3 pockets for hand grenades (2 sewn on the sides, 1 on the left shoulder strap in front). Each has an internal pocket for the fuse and a carbine on the cord, fastened to the check for a cocking grenade with one hand
1 large pocket for flat objects (card, scarf, etc.) with an entrance from above
Total Saturation:
1) 8 AKM / AK-74 or 4 RPK / RPK-74 stores
2) 10 rounds of VOG-25 / VOG-25P
3) 1 bayonet knife
4) 3 or 4 (without bayonet-knife) RSP
5) 3 hand grenades
Slings: 100% Nylon
Threads: Liberty® (Netherlands) bonded nylon filament
Material:
Cordura® 1000d (100% Nylon)
Oxford 210d (100% Nylon)
Hardware: Duraflex®
Velcro: Alfatex® (Belgium)
Weight: 1100 g
Reviews
Unfortunately there are no reviews yet, you can be the first.
Related products
Splav Tactical Vest Tarzan M32
€ 99.95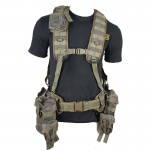 SSO AK Smersh MOLLE Chest Rig
€ 132.95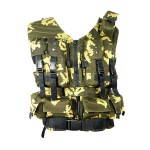 Russian Military Spetsnaz Tactical Vest Chest Rig Yellow Berezka Camo
€ 49.95