Russian Wrist Watch Diving 24H Vostok K35 Automatic 32 Jewels
Description
Vostok Russian Military Komandirskie wrist watches auto 100m 24 hours scale.
VOSTOK is a famous russian trade mark. (means East )
Vostok now is a leader of the Russian watch industry. Vostok factory had been an official supplier for the Ministry of Defense of the USSR (now Russia ), and produced watches for the Soviet ( Russian) Army. Vostok is the official supplier of Russian Army now as well.
Features:
-  Automatic Vostok self-winding movement 2431.01 with 32 ruby jewels  (no hands  winding required, but You can wind up it with winding stem if You have not worn  the watch in some time) 
- Watch has 24 hours scale, hour`s  arrow has a one full circle  for 24 hours ( not two as in usual watch ) 
- Water resistant up to 100 meters  
- Central second hand  
- Anti-shock balance 
- Screw-down crown, as well as case back
- Case diameter (without  the crown): 41 mm 
- Case thickness: 12 mm 
- Stainless steel case 
- Width of bracelet  22 mm 
- Graduated rotated bezel from st.steel
- Totally wound watches run not less than 31 hrs.
- automatic
- Luminous hands and markings
- Average term of service 10 years
  Watch will be carefully packed in strong box.
  This is an excellent gift to yourself or a loved one!!!
Reviews
Unfortunately there are no reviews yet, you can be the first.
Related products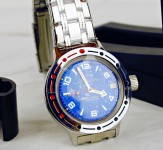 Vostok Amphibian Wristwatch #3

€ 74.99
Out of Stock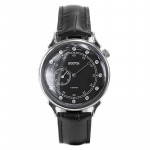 Woman Vostok Watch Komandirskie

€ 79.95
Out of Stock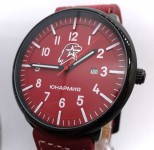 Russian Army Military Wristwatch SLAVA Spetsnaz Attack Young Army

€ 59.99
Out of Stock