Smersh-A Tactical Vest Chestrig AK Mags
Description
SImilar to SSO Smesrh vest, this vest is bade by a Bars affiliate company. And it is also a very good quality vest. Smersh-A Tactical Vest Chestrig AK Mags Belt-shoulder system of the submachine gunner; Adjustment in size from 46 to 60; Material: 100% polyester (600 den); Weight: 1450 grams; Made in Russia. The system includes: - Cargo bag (8 liters), in which all elements are initially packed; - Two pouches for AK mags and signal rockets (in total there are eight AK magazines and two flares); - Two pouches for grenades (in total there are four RGNs or RGOs); - Suspender (belt-shoulder system); - Hard belt and tactical belt. Features: - Ergonomic arrangement of structural elements, soft shoulder inserts are integrated into shoulder straps and waistband; - Pockets have holes for draining the water; - The valves are fastened with Velcro tape and buttons, the system itself is fastened with a fastex type; - On the shoulders there are belts, which allow to fasten additional elements with the help of the MOLLE system; This vest is used by various special forces of the Russian Federation.

Reviews
Unfortunately there are no reviews yet, you can be the first.
Related products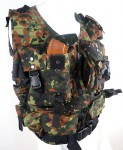 Russian Tactical Vest Flecktarn Camo Holds 8 AK Mags SALE!

€ 49.95
Out of Stock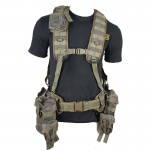 SSO AK Smersh MOLLE Chest Rig

€ 132.95
Out of Stock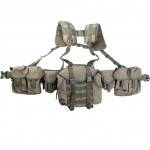 Smersh-A Tactical Vest Chestrig AK Mags

€ 84.99
Out of Stock