Sniper Viper Hood Ghost
Price: €

94.99

Quantity:
Camo pattern:

Description
Today, probably, every person who is at least a little interested in military affairs knows the appearance of a "shaggy" sniper suit. This type of camouflage remains very effective and in demand in a professional environment. Nevertheless, a full sniper "shaggy" suit (jacket and trousers or jumpsuit) has significant weight and dimensions in the assembled, traveling position. In a hot period, it is difficult to be in such a suit. There are frequent cases when for the effective disguise only the upper part (jacket) from the "shaggy" suit is enough. In addition, the part of the suit facing the ground when crawling and in a "lying" position does not participate in the disguise process. Now we have developed a "sniper cape" that combines all the advantages of a classic "shaggy" sniper suit and takes into account all of the above nuances in the use of such equipment. The cloak is the basis of a mixed fabric (50% cotton / 50% polyester) in the form of a vest with an elongated, covering the sides, the back with the lower cut just below the gluteal region, with short sleeves to the elbows, with a hood and without a chest part. On the torso, the cape is held by two horizontal fastex fasteners, which are, in a closed form, in the upper chest. In the absence of the chest section of the vest, for a denser fit and fit the front of the sleeves to the body, at the edges of the right and left upper front sections of the cape, weights from the rubberized cord with plastic clips are held. For better ventilation, the right and left third of the deep hood are made of thin mesh fabric, and the central section of the same mixed. The hood is removable and attached to the cape with eleven unfastened Velcro loops for the corresponding plastic loops.
The entire outside of the cloak and hood is covered with sewn-in mesh cells. The mesh is based on an 8 mm dark olive synthetic tape. The square cells formed by the grid have a size: 60x60 mm. The cell size can be called optimal for further weaving patchwork fabric camouflage components, elements of natural vegetation and other camouflage agents.
Thus, using the sniper cape as a basis, the user, using suitable improvised materials and the appropriate vegetation area, can, for a short period of time, form a light sniper camouflage "for himself" and for specific conditions of use. At the same time, the cape weighs a little, takes up little space in the backpack, is well ventilated, and does not prevent the crawling and carrying of unloading systems.
Even the smallest, in terms of scale, test tests showed the high efficiency of the sniper cape, modified under the conditions of mid-European vegetation in the middle of the summer season.

Reviews
Unfortunately there are no reviews yet, you can be the first.
Related products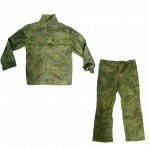 BTK Group Rip Stop Uniform
€ 49.95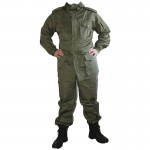 Bars Mountain Suit SMOK
€ 64.95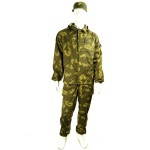 Gorka 1 Mountain BDU Suit Beryozka
€ 64.99