Soviet Russian Military Flight Goggles PO-1M
Description
Flight goggles PO-1M with light filters - a necessary device for pilots, which protects the eyes from exposure to bright sunlight, powerful spotlights. Tinted glass with a density of 15% allows you to more clearly see the contours in blinding light. They also protect the mucous membranes of the eyes from a strong jet of wind. The accessory is very comfortable due to the soft material that fits snugly on the face and the holding elastic bands.
In a set:
* packing box
* glasses themselves
* interchangeable filters
* microfiber cloth
* technical documentation
* instruction.
Glasses are made of leather, which contributes to comfortable wearing.
The viewing angles of the glasses are about 180 degrees.
Replaceable filters are polarized, which allows them to successfully lower the threshold of sensitivity of organs of vision from light radiation and increase the recognition of contours.
Glasses are fixed on the face with two durable and flexible rubber bands, the inner side is made of soft, tight-fitting material.
The bending of the lenses is made taking into account the reflective characteristics.
Reviews
Unfortunately there are no reviews yet, you can be the first.
Related products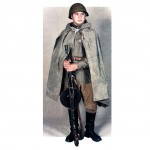 Soviet Army Waterproof Raincoat

€ 14.95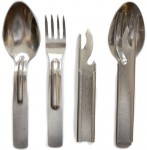 Russian Soviet NK-1 Military Army Camping Cutlery Set

€ 9.99
Out of Stock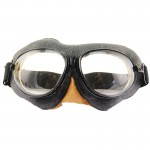 Soviet Russian Military Flight Goggles PO-1M

€ 44.95