Soviet Red Army Gvardiya Badge
Description
Soviet Russian Red Army Guards Gvardiya Badge
The Guards badge was instituted May 21, 1942.
The right to wear the badge had soldiers who served in the units, awarded the honorary title of Guards. Such formations appeared September 18, 1941, this status was assigned for special services in battle. The men of such parts had to wear badges (on the right side of the chest), and the Navy men weared special bracket with orange ribbon with black longitudinal stripes.
After 1943 the Guards signs began to attach to banners of formations (Decree of the Presidium of the Supreme Soviet on June 11, 1943). Then the image of the sign were also added to military vehicles. After World War II the sign was awarded only to soldiers of the Guards units and formations and associations.
Reviews
Unfortunately there are no reviews yet, you can be the first.
Related products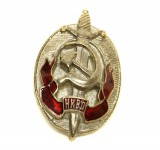 Soviet Russian NKVD Communist Hammer & Sickle Badge

€ 19.95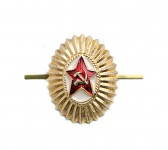 Soviet Officer Uniform Hat Badge

€ 4.50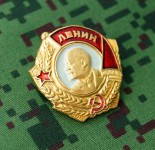 Soviet Russian military Uniform Award Chest Badge Order Of Lenin

€ 4.95