Russian Tactical Folding Silicone Flask Water Bottle Splav 650 ml
Description
Russian tactical Folding Silicone Flask Water Bottle 650 ml. produced by SPLAV.
Material: Platinum silicone, PP
Volume: 650 ml
Weight: 210g
Size: ∅7 × 25.5 cm
Light and compact drinking flask is made of modern material Platinum Silicone and plastic.
Foldable design allows you to twist the bottle for convenient transportation and save space, and a translucent casing will show the level of content fullness.
The impact-resistant airtight cover has a fixation and folding mechanism - this allows you to use the bottle with one hand.
Stylish strap performs a dual function: it can be used for carrying + serves as a jar lock in a folded state
The flask is resistant to crushing and allows mechanical impacts, but be careful:
it is designed only for storing water and pH neutral liquid foods at room temperature! It is not intended for storing alcoholic beverages, as well as products with high acidity (fanta, juices, etc.)
It is necessary to protect the flask from sharp objects;
Do not place in a microwave oven;
Do not use near open flame;
Protect from prolonged thermal exposure to sunlight;
Do not wash with a metal brush or abrasive cleaners.
Reviews
Unfortunately there are no reviews yet, you can be the first.
Related products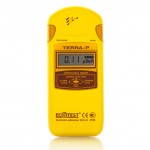 Ukraine Dosimeter Radiometer Household Terra-P MKS-05

€ 199.95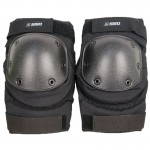 SSO Kneepads "GUARD" Knee Protection Pads

€ 24.00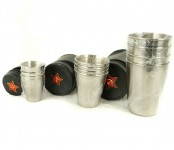 Set of 4 Stainless Steel Shots Vodka Shot Glasses Travel Pocket in Case 1 / 1.7 / 4.4 Oz

€ 7.42