SSO/SPOSN SMERSH AK Chest Rig VOG
Price: €

133.99

Quantity:
Description
Brand new genuine famous SPOSN's (SSO) SMERSH AK chest rig set with extra VOG grenades pouches. 5 cell each - 10 grenades total. SMERSH AK / VOG Set of field equipment. The kit is designed to carry ammunition long distance cross-country, as well as for carrying the signal means and means of communication, medical devices, food intake for one day, cape - tent, engineering ammunition etc. Wearing comfort is achieved by balanced placement of ammunition in the area of ​​the center of gravity of a moving person, that is, on the sides and lower back - this arrangement allows the crawl on - bellies and not makes breathing difficult. The kit includes: two bags of twelve mags for 5.45 AK - 74M, or eight magazines for 7.62 AKM and four hand grenades (F - 1, RGD - 5, RGS, RGN) and Four CPR - RRR, two pouches for ten VOG - 25, VOG - 25P to the underbarrel grenade launcher GP - 25, tourniquet bag, painkillers, bandages, small combat pack. Bags for mags and under-barrel grenade launcher shots to be worn on the waist, using the hard shoulder strap. On the bag for mags straps placed in two tiers - it allows you to host mags on the sides and chest. In order to protect mags teeth from clinging the fabric and to add more rigidity, front and rear walls of pocket are sheathed with plastic 1 mm thick. The bottom flaps and pockets are reinforced from within the second layer of thick wear-resistant fabric, pockets flaps are closed to protect from dirt, moisture and accidental loss of property even when the pocket is not buttoned. Valves are closed with a combination of buttons and Velcro. At the top of the magpouches there are three D - shaped ring in which the shoulder support straps are inserted. Hand grenades are stacked in the pockets placed at the ends of bags for the mags (instead of grenades you can carry there the oil can, bandage, or other equipment.) - This layout provides an efficient distribution of pouches on the belt, leaving the belly free. Pockets for grenades equipped with special internal straps for fuses. Bags for VOG-25 (or VOG-25P) can be attached to the belt in a vertical or horizontal position, as well as vertically mounted on the shoulder straps, fixing their chest tie. Vog pouches can be replaced with supplement pouches for hand grenades, thus bringing the number up to eight pieces. Immobility of bags on the belt is achieved with a special removable tie with adjustable length connecting the mags bag and a special belt. For uniform load distribution between the shoulders and the waist belt strap is supported at six points shoulder straps - straps belt loop, first passed in the D - rings on store bags, small knapsack combat (if it is hanging on the waist) or soft belt, and then threaded through in adjusting buckles, loose ends tucked under the belt buckle - straps and coupling of gum. This is quite a complex system of fastening and adjustment, provides a very reliable fastening of equipment together, excluding bumpy heavily loaded elements of equipment, as well as damage to fixtures. The straps are soft polymer insert 10 mm. and mesh lining for better ventilation shoulders. The straps are equipped with quick coupler chest lock from high polymer, as well as evacuation loop jumper on the back wraps. Additional equipment is tacked to the supporting shoulder straps fastening system PALS (MOLLE) or hooks, clips (clips) combat system ALISE Small backpack (CPR) has two branches - the main and the valve in the main compartment can be located engineering ammunition, small diet filter for water, light sleeping bag and others. The pocket in the valve is fastened with Velcro, a tube is pulled cord main compartment with a spring-loaded latch and close the valve fastened with quick release locks of high-strength polymer. The back wall is equipped with CPR straps for fastening on the belt and the belt for removable hooks, clips (clips) from the system ALISE. With these hooks can be attached to the CPR backpack. Small combat backpack largely transferred to the back - this included are two straps with parachute carbines and adjusting buckles - dvuhschelёvkami by which the CPR is tacked to the rings of the shoulder support straps. At the bottom of the WBS placed two belt loops with trёhschelёvymi adjusting buckles with which to secure the CPR can be coiled cape - tent or heat insulating mat, personal camouflage. All bags are supplied fitted with grommets to remove moisture from getting inside (eg in overcoming water obstacles). During an eight-year operation of a set of continuously refined and generally worked well for both search and ambush actions as well as the replacement of assault vest. On the basis of this set by replacing the bags, you can collect equipment for RPK machine gun - 74, PKM machine guns, sniper rifles SVD, SV - 98, BCC Vintorez ACC automatic VAL.
Reviews
Unfortunately there are no reviews yet, you can be the first.
Related products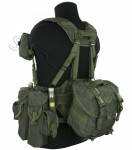 SSO Smersh RPK Tactical Vest
€ 94.99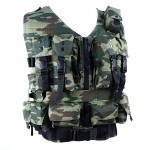 AK Assault Vest Flora
€ 54.95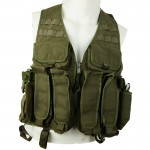 Russian Special Forces Tactical Vest Tarzan M22
€ 144.95