SSO (SPOSN) AK Smersh Vest
Price: €

94.99

Quantity:
Color:

Description
The SMERSH field equipment kit is designed for the needs of infantry and reconnaissance units, and is designed to carry ammunition for AK series assault rifles, hand grenades, rocket cartridges, and a minimum set of provisions and additional equipment. This tactical vest has become a truly modern classic of military equipment.
The unloading system consists of polyester shoulder straps with cushioning spacers, a PC-31 waist nylon belt, which serves to accommodate pouches and soft cushions, as well as a number of pouches.
Each of the two ammunition pouches located on the sides serves as a basis for attaching shoulder straps and contains 4 magazines for AK assault rifles, 2 hand grenades and 2 rocket cartridges. The material for the manufacture of pouches is nylon, which is extremely durable with low weight. In the back of the system, on the belt of the RS-31, a soft belt is fastened that performs three functions: increasing comfort when wearing the system, attaching the back of the shoulder straps and placing the waist bag SPP (Sukharki). The sukharka itself is made of polyester and can be fixed both on the soft belt and a little higher on the shoulder straps. In front of the strap is attached a pouch for an individual dressing bag (IPP). The stock of system adjustments allows you to distribute the wearable weight depending on the individual preferences of the user.

The weight of the system is 2519 grams.
Reviews
Related products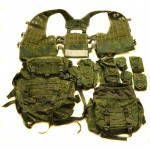 Ratnik Tactical Vest 6sh112 Used
€ 99.95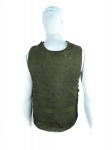 JZL-74 Russian Stab-Proof Vest Knife Body Armor ZHZL-74
€ 199.00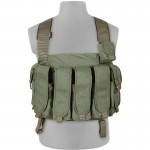 Loadout Vest Pioneer M23 Splav
€ 109.95