Bars Suit Sumrak M1 Izlom
Price: €

54.95

Quantity:
size:

partizan cap:

Description
The Bars suit Sumrak M1 is a carefully thought-out suit focused on the combat operations of reconnaissance units in difficult and hot conditions. Sumrak M1 visually breaks the silhouette of a human figure, visually changing the shape and thickness of the head, neck, shoulders and arms.
The product is offered to the buyer in several variants of camouflage colors, depending on the time of year and the region in which it is planned to perform tasks.
The masking gown has rubber cuffs, mesh ventilation of the inguinal, axillary region, as well as head ventilation (when wearing a suit with a hood on).
Features of the Twilight - reinforced buttons held on stitched ribbons, masking of hands and a special tailoring of the hood, allowing it to repeat all the movements of the head, not to fly off when the wind gusts, listen to the forest and not fit snugly against the head, thus making ventilation difficult.
The camouflage suit is equipped with straps on the chest, shoulders and upper back for attaching additional camouflage elements. Separately, it is worth talking about the material from which the Twilight M1 is made. The fabric is called panacea, it has the best price / quality and strength / gas permeability ratios. The density of the panacea is only 160 g / m2. Composition: 33% viscose, 67% polyester. Such materials make it possible to retain a small amount of moisture on the surface of the suit (fog, drizzling rain), qualitatively remove sweat from the body and reliably protect the suit from external damage.
Sumrak M1 from 2016 delivered on demand to various units of the army and the Russian Guard
Reviews
Unfortunately there are no reviews yet, you can be the first.
Related products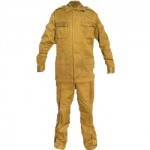 Afghanistan War Summer Uniform BDU

€ 99.00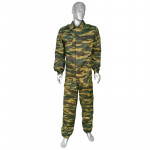 Russian Spetsnaz Suit Kamysh

€ 64.99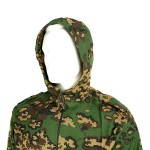 Tactical Suit Partizan Camo

€ 49.95