SSO SVD1 Molle Pouch
Description
An open mag pouch, without valve, for the quickest retrieval of the magazine for a 7.62 SVD rifle.
To hold the magazine tightly, the front wall of the pouch with a frame made of a vertical sheet of plastic mm mm wide
The magazine in the pouch is fixed with a loop of elastic cord worn on the magazine cover.
For the convenience of resetting the loop, a vertical flag from a double belt tape 50 mm high is put on it.
Outside the pouch, you can attach additional equipment (such as a hand grenade or pistol magazines) to the PALS mount (MOLLE). On the bottom reinforced with a belt with triple stitches, a grommet is installed to remove moisture. To platforms, vests and belts with the PALS (MOLLE) system, the pouch is attached with two vertical and one horizontal belt tapes.
Vertical belts have rigid inserts and fasten to the bottom of the bag with metal buttons.
Bag dimensions:
Total height - 105 mm;
Pocket height - 85 mm;
Length along the front wall - 105 mm;
Width - 25 mm.
The weight of an empty tissue pouch with a density of 500D is 80 grams.
Reviews
Unfortunately there are no reviews yet, you can be the first.
Related products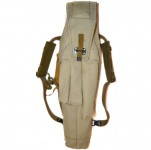 Russian RPG-7 Shots Backpack
€ 44.99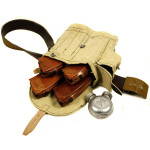 AK-47 Mag Pouch 4 Cell Bag
€ 9.99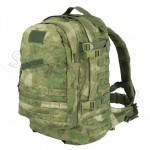 ADLER SSO Assault 3-Days Patrol Backpack 35L ATACS Camo Moh
€ 79.95