SSO SVD 2 Molle Pouch
Description
Closed pouch for two mags for a 7.62 SVD rifle.
Two mags are stacked sideways with a rigid partition inserted between them, mounted on a linden.
The front wall of the pocket from the inside has a rigid frame made of 1 mm thick plastic sheet.
The pouch is closed by a valve that protects the b / c from falling out, with protection from dust, dirt, moisture.
The valve with a silent fastener QRF (Quick Release Fastener) of a sample of 1958. This fastener is reliable, as it is made of stainless steel, duralumin, polyamide belts. The side walls of the valve taper towards the rear wall, which, combined with the plastic frame in front of the valve, makes it easy to open with one hand.
In places exposed to the greatest load (lower part, valve), reinforcements with a second layer of fabric and triple stitches of seams.
A grommet is installed at the bottom to remove moisture. For platforms, vests and belts with the PALS (MOLLE) system, the bag is fastened with two vertical and one horizontal belt belts.
Vertical belts have rigid inserts and fasten to the bottom of the bag with metal buttons.
Bag dimensions:
Total height - 120 mm;
Front wall height - 85 mm;
The height of the partition is 95 mm;
Length (along the front wall) - 105 mm;
Width - 55 mm.
The weight of an empty pouch made of material with a density of 500D is 115 grams.
Reviews
Unfortunately there are no reviews yet, you can be the first.
Related products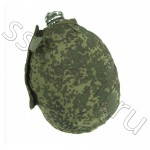 SSO Military Flask MOLLE Pouch

€ 12.00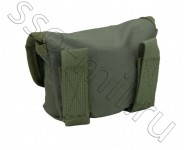 SSO First Aid Pouch

€ 9.99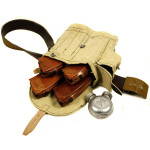 AK-47 Mag Pouch 4 Cell Bag

€ 9.99