Russian Tactical Vest Flecktarn Camo Holds 8 AK Mags SALE!
Description
Russian Tactical Chest Rig Vest Flecktarn Camo. Holds 8 AK Mags
Has 4 pockets on chest (fits 2 AK47 / AK74 mags in each - 8 total).
Shoulder pocket for radio, 4 grenade pockets, and 2 more spare pockets in front,
6 large cargo pockets on back.
Front zipper, waist belt. Can be adjusted for any size. Made of durable fabric.
Reviews
Unfortunately there are no reviews yet, you can be the first.
Related products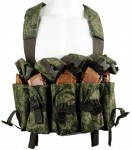 AK Tactical Vest Beetle
€ 34.99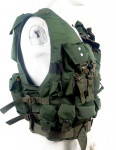 Assault Vest 8 AK Mags
€ 54.95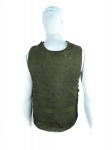 JZL-74 Russian Stab-Proof Vest Knife Body Armor ZHZL-74
€ 199.00