Telnyashka Shirt
Price: €

7.99

Quantity:
Stripe color:

Tank top or shirt:

Size:

Description
Telnyashka (is a dark color and white striped, sleeveless or not, undershirt, which is an iconic uniform of the Russian Navy, the Russian Airborne Troops (VDV) and the Russian Naval Infantry (marines), initially by Soviet predecessors of these troops. It has been a symbol of great military pride for those who wear it gradually becoming a broader symbol of masculinity and self-confidence. Used by Russian military divisions in Chechen and other conflicts.
Very stylish and comfortable stretchy knit. 100% cotton. High quality! Made in Russia. Does not fade from wash. The cut and pattern of this military shirt gives the illusion of broad shoulders and a thin waist, on both small and large bodies. Ideal Russian Souvenir - Russian Telnyashka! Ideal as an undershirt for sailors, fishermen and outdoorsmen.
Increases your self-confidence by 140%.
If you are looking for a present for your husband, boyfriend, boss or friend - be sure, he will be excited with this unusual and exceptional gift from Russia, and will keep warm memories of you for many years.
Reviews
Related products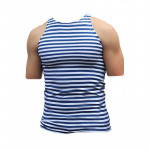 Military Navy Telnyashka Dark Blue

€ 7.99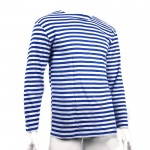 Telnyashka Shirt

€ 7.99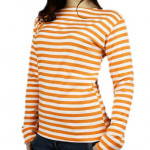 Telnyashka Orange Striped Shirt

€ 9.99