VLKSM Komsomol Lenin Soviet Russian Badge
Description
VLKSM Komsomol Lenin Soviet Russian Badge
Genuine Soviet Badge. New, unused. Sizes appr 1.5 x 1.5 cm
The All-Union Leninist Young Communist League (Russian: Всесоюзный ленинский коммунисти́ческий сою́з молодёжи (ВЛКСМ)), usually known as Komsomol (Russian: Комсомо́л, a syllabic abbreviation from the Russian kommunisticheskii soyuz molodyozhi), was the youth division of the Communist Party of the Soviet Union (CPSU) and a political party of the Soviet Union represented in the Supreme Soviet of the Soviet Union. The Komsomol in its earliest form was established in urban centers in 1918. During the early years, it was a Russian organization, known as the Russian Young Communist League, or RKSM. During 1922, with the unification of the USSR, it was reformed into an all-union agency, the youth division of the All-Union Communist Party.

Reviews
Unfortunately there are no reviews yet, you can be the first.
Related products
Russian military Uniform Award Chest Badge
€ 23.41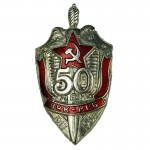 Soviet KGB 50 Anniversary Chest Pin Badge
€ 9.99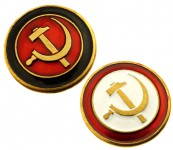 Soviet Russian Hammer And Sickle Communist Badge
€ 4.99