Vostok Tactical Vest Tarzan M22 Replica
Price: €

49.99

Quantity:
Color:

Description
Vostok Tactical Assault Vest Tarzan M22 Copy Olive OD
This is a cheaper version of the famous Splav Tarzan M32 Vest. Weightl less, but still good quality.
Adjustable for all sizes.
Pockets with water release.
Holds:
- 3 x signal rockets, (or 2 signal rockets and a flashlight)
- 4 x RGO or RGN grenades,
- 8 x AK magazines,
- 2 x inside pockets for documents or armored elements,
- personal dosimeter,
- oil can,
- knife,
- possibility of attaching extra pockets if needed (for Vog-25 grenades, radio, etc.)
Reviews
Unfortunately there are no reviews yet, you can be the first.
Related products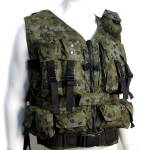 Russian Military Tactical Vest Digital Border Guard Camo
€ 54.95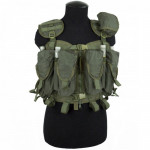 SSO Alpha Tactical Vest Chest Rig
€ 99.50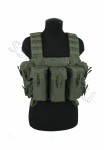 SPOSN's (SSO) LAZUTCHIK Chest Rig Vest
€ 89.00