Marines Victorius Dog Tag
Description
Russian Marines Dog Tag. Sign in Russian: "Where we are - there is victory". Made of stainless steel. 28 x 50 mm. 1,5 mm thick. Weight - 16 grams.
Two chains are included: 60 mm and 10 mm long.
Reviews
Unfortunately there are no reviews yet, you can be the first.
Related products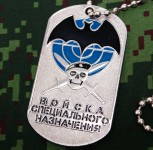 Russian Army Military Dog Tag special forces black beret
€ 4.50
Soldier of Fortune Pirate Dog Tag
€ 4.99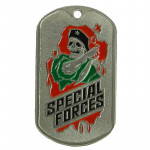 Dog Tag Special Forces
€ 4.50