Russian Military Spetsnaz ODON Panther Steel Dog Tag Chain
Description
Russian ODON Panther Steel Dog Tag With Chain
ODON is the famous Russian special forces (spetsnaz).
Independent Operational Purpose Division or ODON, is a rapid deployment internal security division of the Internal Troops of the Ministry of Internal Affairs of the USSR and then the Russian Federation, now the National Guard of Russia.ODON (Russian:Одон) is an initialism for Отдельная дивизия оперативного назначения (English: Independent Operational Purpose Division).
Made of stainless steel. 28 x 50 mm. 1,5 mm thick. Weight - 16 grams.
Two chains are included: 60 mm and 10 mm long.
Made in Russia. High quality.
Reviews
Unfortunately there are no reviews yet, you can be the first.
Related products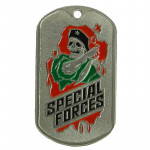 Dog Tag Special Forces
€ 4.50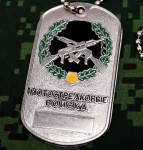 Military Dog Tag motorized rifle troops AK-47
€ 4.50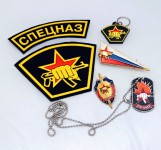 Russian Spetsnaz Special Forces Badge Gift Set
€ 14.99