Russian Patrol Police Uniform
Price: €

59.99

Quantity:
Size:

Police cap:

Description
The suit consists of a jacket and trousers:
- Jacket straight cut
- The central fastener on a detachable lightning
- Turn-down collar.
- Two-seam sleeves with stitched cuffs fastened with buttons
- Loop loops for shoulder straps are located along the line of the shoulder seams. A shoulder strap with a sleeve for attaching shoulder straps is inserted into them.
- Two pockets with figured flaps on buttons, on a shelf of a jacket. A hinged pocket for a badge with an insert from a transparent film is fixed on the right pocket.
- Two zipped welt pockets in the middle of the shelf
- One inside button pocket
- Velcro contact tape for chevrons is sewn on the sleeves of the jacket.
- On the left shelf of the jacket and on the back, Velcro contact tape for patches is sewn.
Pants straight cut. Stitched belt with belt loops under the belt. Two pockets at the side seams. One welt pocket with flap is located on the right rear half of the trousers. On the side shvukant red. Dark-blue colour.
Reviews
Unfortunately there are no reviews yet, you can be the first.
Related products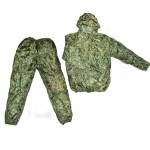 Windproof Waterproof VVZ SKLON Suit
€ 24.99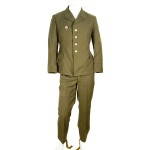 Soviet Officer Uniform Suit
€ 24.99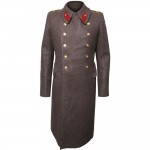 Soviet Army Officer Overcoat
€ 97.90