Ushanka Hat WW2 Type
Price: €

19.99

Quantity:
Size:

Description
Genuine Soviet Army uniform surplus winter fur hat. New, unused. Made in USSR in 1980-1990. Authentic, came from a military warehouse. Has stamps inside.
Ushanka is Russian winter uniform hat of soldiers of the armed forces of the Soviet Union. Practical warm hat, made of thick gray natural wool felt and military fur, that consts of 60% of sheepskin and 40% of polyester. So, the fur is very warm and resistant to rain and snow. Grey-blue color. Warm, comfortable, stylish and inexpensive Ushanka can be worn with earflaps tied on top, pulled down for extra warmth and comfort or tied at the back covering neck but leaving cheeks open.
Badge is metal. It will be included not attached. Please note that nowadays large sizes of this hat are very hard to find. Size 62 that we offer here is a new made reproduction hat. It is made using old Soviet patterns, on an old factory that have been manufacturing ushanka hats for a long time. But still there is a slight difference with the original hat. See pictures. Sizes 56, 58 and 60 are original surplus hats made in 1980-1990.
Awesome for reenactment and milsim activities, outdoor actions, hunting, Halloween party and costume holidays.
Reviews
Unfortunately there are no reviews yet, you can be the first.
Related products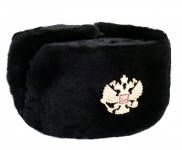 Russian Ushanka Full Fur

€ 49.99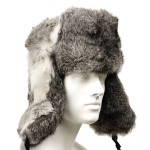 Russian Grey Rabbit Ushanka Fur Hat

€ 34.99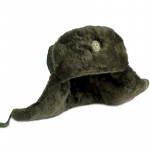 Russian Soldier Ushanka

€ 19.99