SSO AKM2 RAID Molle Pouch
Description
We present to your attention the pouch 2 AKM RAID molle. The pouch is designed to hold two 30-charge AK assault rifle mags (all types) and carry out emergency reloading of the assault rifle. The pouch is equipped with a PALS / MOLLE standard mounting system. To fasten it to the equipment, 2-3 rows of parallel tapes in two MOLLE cells are needed. The pouch has a vertical rectangular orientation.
Structurally, the product consists of an outer shell forming the back and front walls of the pouch, two frame plastic inserts-clips, a plastic divider, a rubberized elastic cord-tie and store holders, also mounted on rubberized elastic cords. The shell pouch of durable synthetic fabric is made dense, with hard edges. The MOLLE mount is located on the back of the pouch. On the front wall of the pouch there are two parallel MOLLE tapes (with a gap of one tape in width), two cells in each. This allows you to connect the pouch, for example, with another similar pouch. The side walls of the pouch and part of its bottom are formed by two rigid plastic inserts-clips mags. Between the inserts-clamps is a plastic divider that prevents friction and collision of the walls of the magazines. In the bottom part, each of the two fixation inserts is riveted to the outer shell of the pouch with two strong steel rivets. The side walls of the inserts-clamps do not carry a rigid connection with the outer shell of the pouch and in their upper part have holes for the passage of a rubberized elastic cord. In the same way, the cord passes through the four holes of the plastic splitter. This cord, using the back and front MOLLE cells and the aforementioned upper holes, as if wraps around the side walls of the pouch and pulls the structure into a rigid system, which firmly holds the magazines inside the frame insert-clips. At the same time, with a sharp movement of sufficient force, mags quickly pull out of the pouch. Both ends of the protracted cord go to the bottom of the back wall of the pouch. There, without interfering with the MOLLE mount, the ends of the cord are fixed with a miniature plastic stopper. Thus, by adjusting the degree of cord tightening, you can adjust the compromise stiffness of the pouch, while maintaining a good fixation of the mags and the speed of their removal. Shops, in the upper part, are held in the pouch by holders on elastic rubberized cords, which are threaded into loops of tight tape located on the upper sections of the front and back walls of the pouch and separator. The degree of tension here is also adjustable.
In the general equipment system, the 2 AKM RAID pouch is convenient for storing two emergency mags in case of need for particularly fast reloading.
Reviews
Unfortunately there are no reviews yet, you can be the first.
Related products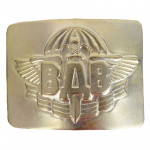 Russian VDV Airborne Belt Buckle
€ 4.99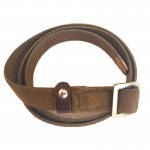 Soviet Russian Military Army Soldier Lap Belt Tarpaulin USSR CCCP
€ 9.99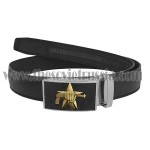 Spetsnaz Leather Belt with Buckle
€ 14.99