SSO Gorka S Uniform Suit
Price: €

84.99

Quantity:
Size:

Cap:

Description
Gorka C Suit SSO Gorka-S. The set of Gorka S costume includes anorak jacket and trousers.
The storm-type anorak jacket is made of tent cotton fabric and has reinforcing plates for shoulder and elbow areas. The jacket has two pockets - a chest pocket and a penetrating one kangaroo type with dust valves. Adjustable hood with a visor.
The system of rubber ties above the cuffs of the sleeves and in the waist area provides a good fit of the suit, prevents sailing in the wind and allows you to put on additional layers of warm clothing. Sleeves end with cuffs with elastic band. The bottom of the jacket is also adjusted by cord. Trousers are made of cotton fabric with long synthetic kneecaps are fixed on the bottom with Velcro tape and fasteners.
The belt of trousers is elastic, it is regulated by two elastic bands and a cord with a fastener on a hook and Velcro. Pants have six pockets - two thigh, two slit with flaps (slotted holes for access to underwear), two rear. The suit is made of tent cotton fabric.
Reviews
Unfortunately there are no reviews yet, you can be the first.
Related products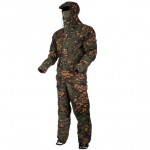 Gorka 3 Suit Partizan

€ 89.95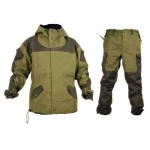 Gorka 3 Bars Winter Field Uniform Suit Fleece

€ 74.99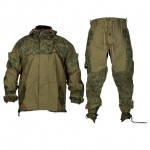 Gorka 3 Suit EMR

€ 64.99