Bars Combat T-Shirt Thunder Multicam
Price: €

39.95

Quantity:
Size:

Baseball cap:

Description
BARS production high-quality, comfortable combat shirt for wearing under a bullet-proof vest or unloading vest, and as an independent element of uniforms in the summer or in the warm off-season.
Grom translates as Thunder in Russian.
The upper part of the torso and sleeves are made of dense, durable Ripstop-fabric. The lower part of the torso is made of soft, stretching jersey. All seams are carefully and neatly stitched. The shirt is equipped with integrated elbow pads for additional protection of the joint. Elbow pads can be removed if desired. The shirt has a zipper on the chest. Sleeve cuffs with velcro. On the sleeves there is one double velcro pocket with velcro for insignia, closing on the flap.
Features:
Color - Multicam.
Production material (top, sleeves) - Ripstop (65% cotton, 35% polyester), density 210 g / m2;
Material production (bottom) - Knitwear (92% cotton, 8% lycra), density 180 g / m2.
Reviews
Unfortunately there are no reviews yet, you can be the first.
Related products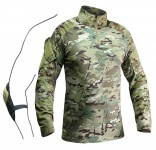 Bars Combat T-Shirt Thunder Multicam
€ 39.95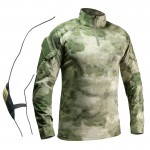 Bars Tactical Combat T-Shirt ATACS
€ 39.95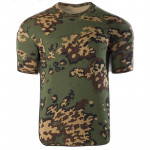 Tactical T-shirt Partizan
€ 9.99