SSO Waist Belt PC-40 Olive RS-40 Black Tactical Military Russian
Price: €

17.99

Quantity:
Size:

Description
SSO Waist Belt PC-40 Olive RS-40 Black Tactical Military Russian
A quality belt still remains the main platform for securing any kind of additional tactical equipment, is part of the unloading systems and is the basis for accommodating various kinds of modular platforms. At the same time, the stiffness of the belt, the ease of its adjustment and the strength of the buckle are the determining criteria for its quality. The emergence of new, more and more modern materials, affects the development of even such a seemingly simple type of equipment as a waist belt. We present to your attention our promising waist belt RS-40. The belt is offered in three sizes: L (116-122 cm); M (96-102 cm); S (78-85 cm). Belt width: 50 mm. Coloring: olive, black. The main belt strip is made of two layers of rigidly woven 100% polyamide material. The duraflex buckle made of heavy-duty cast polyamide with a three-point locking vector is used as a locking element. One of the ends of the belt is attached to the buckle motionless, the other end, equipped with a velcro fastener of sufficient area, is somewhat adjustable in length, within its size. The adjustment is facilitated by the double-slit design of the corresponding half of the buckle and the movable loop-loop, which holds the velcro from accidental opening. The stiffness of the belt is sufficient for the use of heavy elements of equipment, mounted on conventional hinges or metal clips. With all its stiffness, the belt is elegant enough to wear as a trouser, if there are trousers on the trousers of the appropriate size. The adjustable end of the belt opens with a buckle for threading through the loops of attached equipment or anabs pants. To facilitate this process, it has a rounded edge, protected by an additional edging.

Reviews
Unfortunately there are no reviews yet, you can be the first.
Related products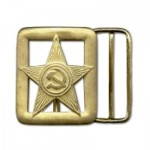 Soviet Army Soldier Belt Buckle Red Star Communist Hammer and Sickle Russian Military
€ 4.99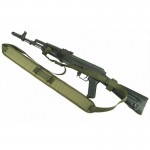 SSO AK Sling Belt RT-3
€ 13.00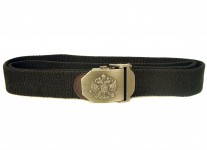 Belt Russian 2-Headed Eagle Crest Buckle
€ 14.99