Spetsnaz Tactical Suit Uniform BDU
Price: €

64.99

Quantity:
Size:

Cap:

Black leather belt:

facemask:

Black beret:

Description
Black Special Forces (Spetsnaz) Suit Uniform BDU Costume.
The Spetsnaz costume consists of a jacket and trousers. The jacket is shortened, with a central folding clasp on hinges and buttons, with upper slotted pockets with a valve, worn tucked or on the outlet. On the belt, the width of which is regulated by special staples, fastened to hinges and buttons. Sleeves with reinforced elbows, the bottom of the sleeve is adjustable in size with a velcro closure. Mesh for ventilation in areas of active heat generation. Pants with loops for a wide belt, with an hightened belt for easy carrying of ammunition, multifunctional pockets, on each side are tightened with elastic braid, with a grid for ventilation in the groin area, with reinforcing lining on the knees on the bottom are equipped with Velcro (for the use of soft knee pads and elbow pads) with special cuffs on the bottom of the trousers. A complex multifunctional suit. It is widely used by special service workers.
Reviews
Unfortunately there are no reviews yet, you can be the first.
Related products
Ratnik Bars Reversible Suit EMR
€ 89.95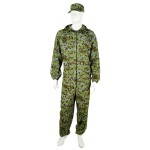 Russian Military Border Guard Digital Camo BDU Suit
€ 49.00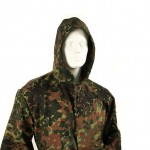 Gorka 1 Uniform Flecktarn
€ 49.00